Since 1st grade, Jozlin has displayed a strong resistance to writing. Assigning a paragraph or even one sentence would send her into a downward spiral of emotions. For over a year much of my mental energy was spent trying to develop a way to kindle a love of writing within her heart.
Thankfully I'm not in this alone. The Lord knows Jozlin's heart and He knew how to remove her writing resistance. A magical tender mercy occurred, which changed our course for writing.
Last fall we went to the local thrift store. Zaylee purchased a colorful Beanie Boo monkey named Zuri. After some searching, Jozlin found a TIGER! The tiger instantly became Hobbes. (We are HUGE Calvin & Hobbes fans over here!)
Later that week, intending to help improve Zaylee's penmanship, I printed some early elementary lined paper. Zaylee begged me to print 6 pages with an area to illustrate a story.
I told Zaylee the pages would be a PRIZE for finishing her schoolwork that day. This was unintentionally the smartest move I could have made.
Zaylee quickly finished her work and began writing "Zaylee and Zuri Diaries."
Watching Zaylee complete 4 pages kicked Jozlin into gear. Jozlin refused to be left behind! She began to write the adventures of Jozlin and Hobbes.
This is a perfect example of the irreplaceable power of positive peer influence!
That week they finished school quickly so they could write and illustrate their stories. My involvement was limited to helping spell difficult words, printing more pages, listening to their amazing stories unfold, sometimes suggesting edits to punctuation, and finally laminating and binding the end products.
HOURS of free time were spent writing and illustrating!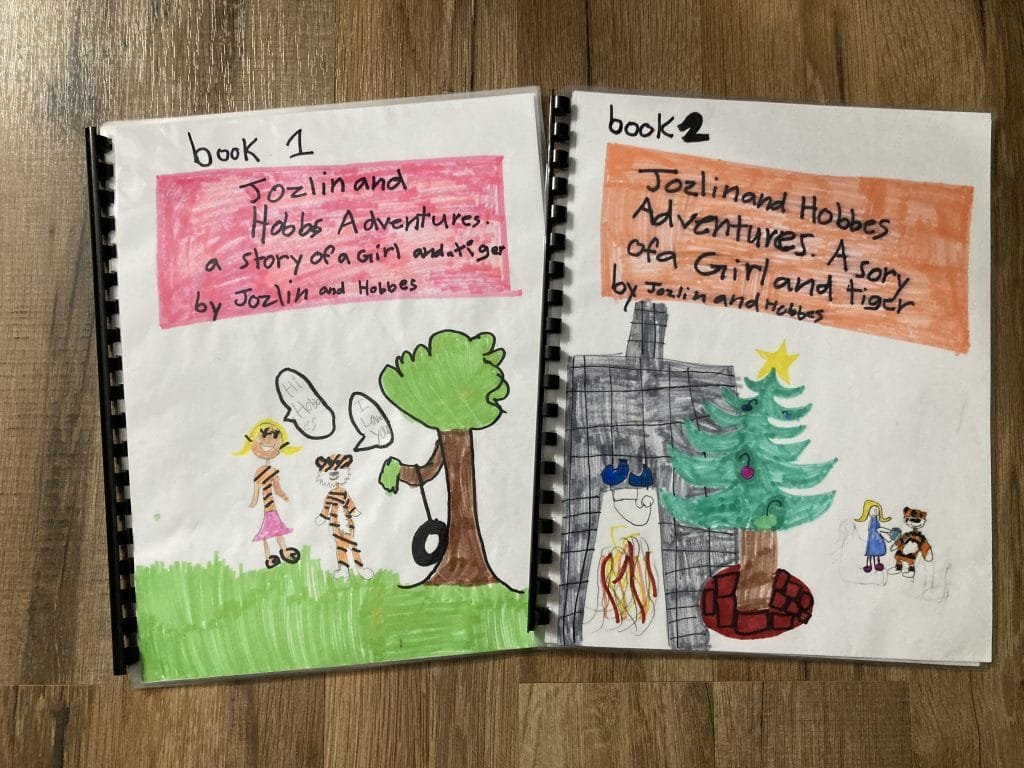 Tears come to my eyes when I think about the writing miracle we experienced fall of 2021.
Since then, the girls randomly work on their stories. My job sometimes is to simply step aside and allow these girls to lead their own learning experience. Letting them write for fun without assignment or compulsion has allowed their love of story telling and writing to take root.
We work on correct spelling, punctuation, grammar, and all things language arts related during their school lessons. I am hoping that what they learn from their lessons will blend with their budding story telling skills to shape these girls into fantastic writers.
If you are struggling with reluctant writers… I honestly do not have the answers to overcome your specific hurdles. Every child is different. I am writting this post because I want you to know there IS hope!
Some ideas that might help include:
1.) Read to your children. A LOT! Read full chapter books together. Read the classics! Read books you love!
2.) Tell them stories. Work on becoming a story teller and help your children fall in love with the art of story telling.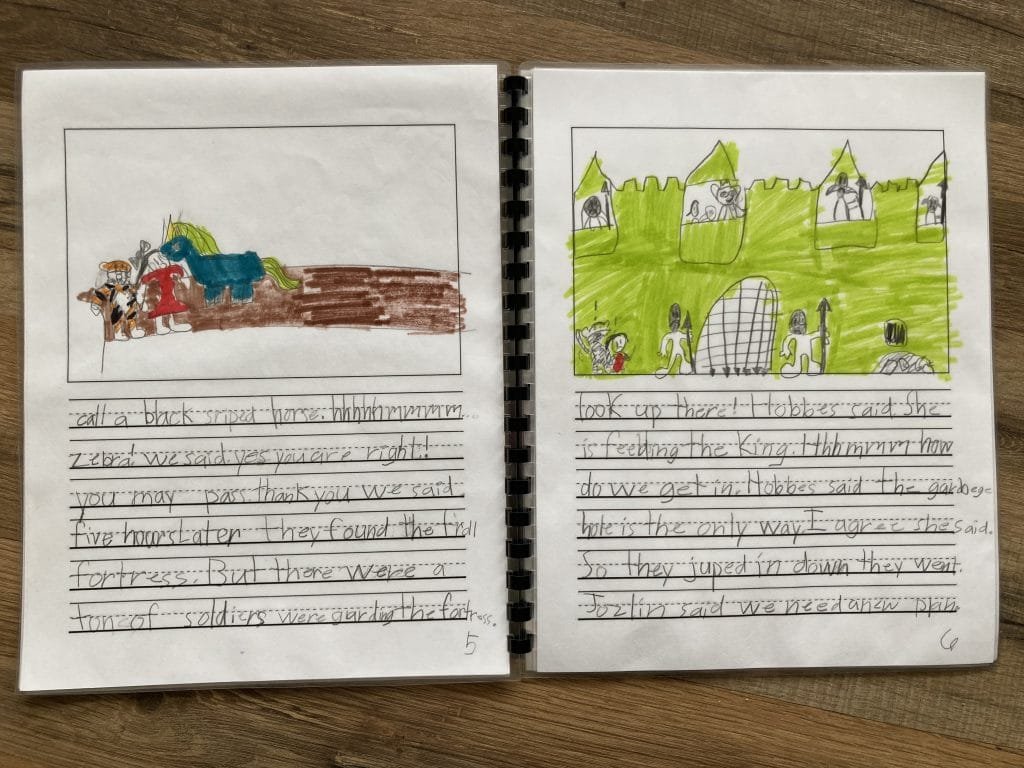 3.) Write or type a story as your child dictates it to you. Read it back to your child. Through this process he/she will come to understand they CAN write a story.
4.) Write a story together. Have them write every other word or sentence.
5.) Don't get caught up in the imperfections.
6.) Involve the Lord. Ask for His guidance. He is ready to help… simply turn to Him in prayer.
John Drinkwater, an English poet once said, "These years of childhood and young adulthood are for gathering bricks, which is not the end of learning, but the beginning of a lifetime of creation."
These years teaching and watching my children grow are precious to me beyond any worldly measure. I hope my efforts will help them become life long learners and creators.
No hurdle is too high to overcome. With an atmosphere of love and consistency your children will learn all they need to succeed in life. You are doing a very important work. You can do this!
💕Terynn