1.) Reward System
Since, what feels like, the beginning of time we have practiced implementing a morning 5 routine which includes get dressed, say prayers, make bed, brush hair, brush teeth.
Simple right?!?! Guess again… let me tell you, I have heard every complaint under the sun as to why a certain poor soul living under our roof should NOT have to do her morning 5.
To remedy this daily power struggle we added preparation to our reward system.
At Hogwarts, House Points are awarded to students who work hard and do good. On the other hand, points are taken away when rules are broken.
Creating a house point system was the obvious way to go! Having only 3 students we decided to forego the sorting hat. We matched each Hogwarts House with a positive behavior. We work together to fill the jars using marbles.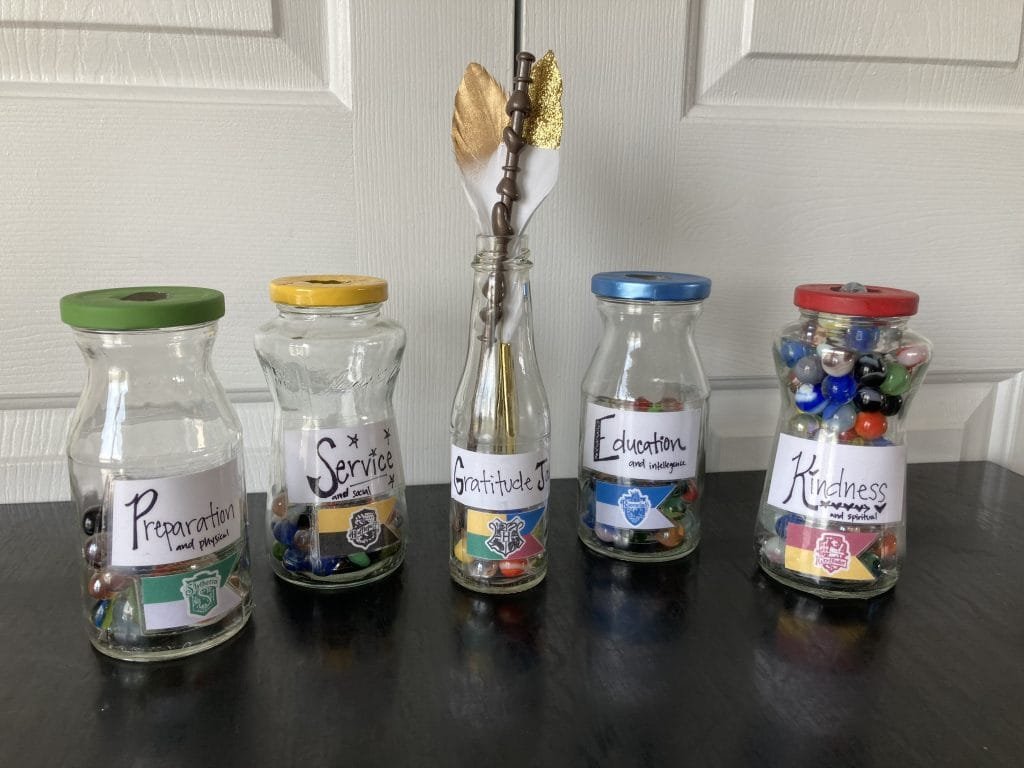 Gryffindor – Kindness
Hufflepuff – Service
Ravenclaw – Education
Slytherin – Preparation
When a jar is filled they earn a prize from the bag or a special activity. The bag has notebooks, crafts, games, stickers, dollar store prizes, a few Calvin and Hobbes books purchased from abebooks.com (which is my favorite resource for used books!)
The first jar filled up quickly! Making the girls super excited about earning points. Each time a jar is filled a star is placed on the jar. At the end of the year, the jar with the most star stickers will win the House Cup!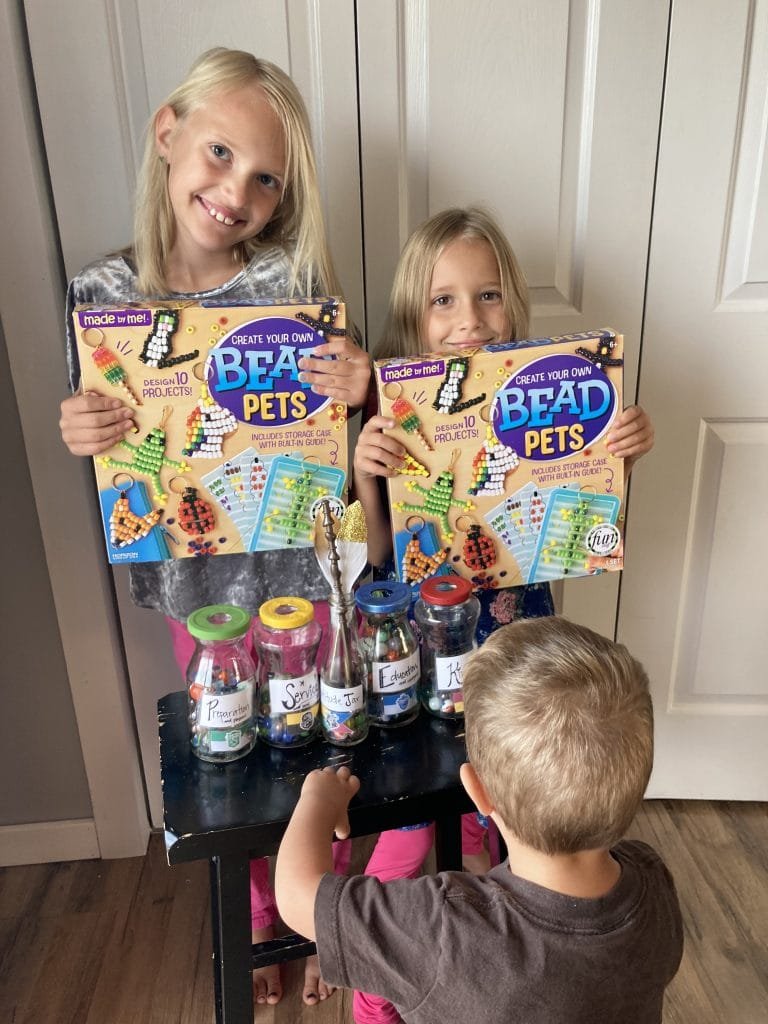 The jars holding our house points are made from salsa jars. One inch holes were punched in each lid for the marbles (Thank you Grandpa for punching the holes for us!!!) And the lids were painted with acrylic or spray paint. We printed these Free printable Hogwarts House Flags to place on each jar.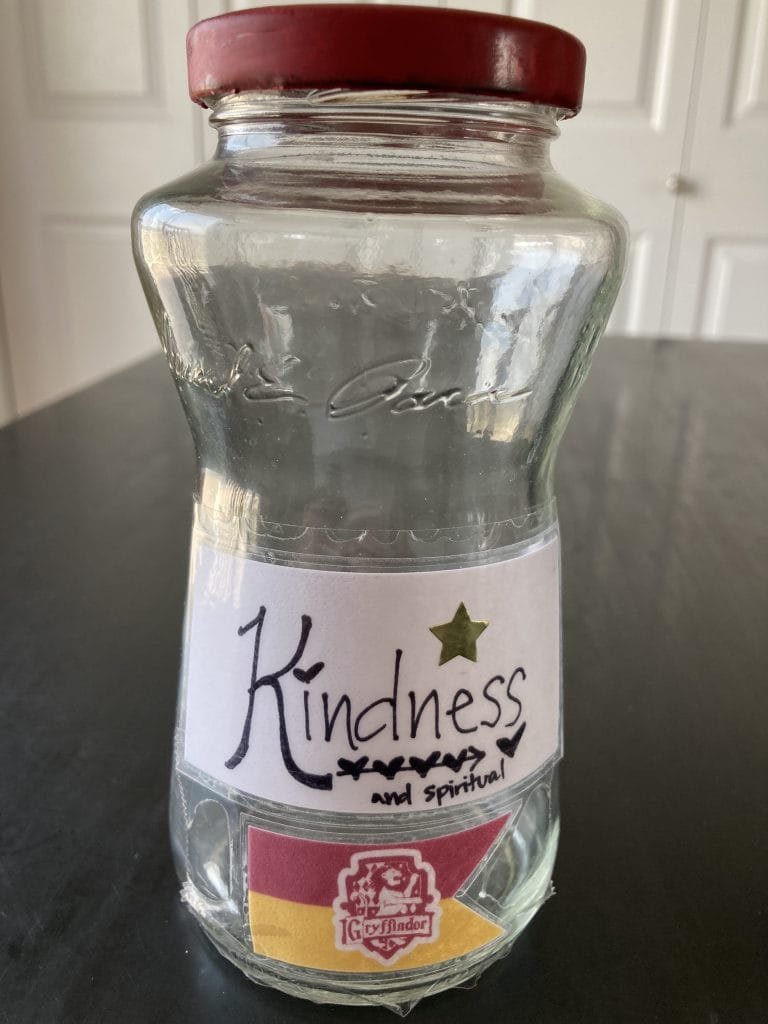 2.) Wands
The monotony of school work tends to sneak in and starts to wear us down. When this occurs, we pull out the wands! We don't do this all the time. I would say about once every other week. We have used wands with Yoga, Memorization Practice,
Spelling & Writing Practice,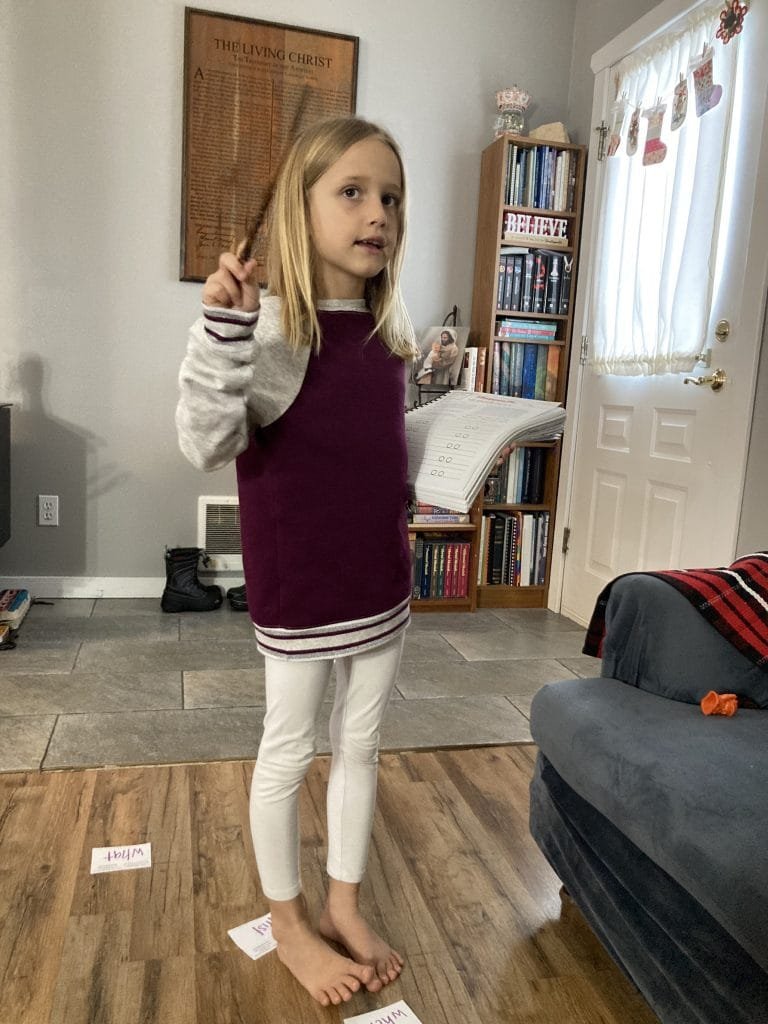 Reading Practice,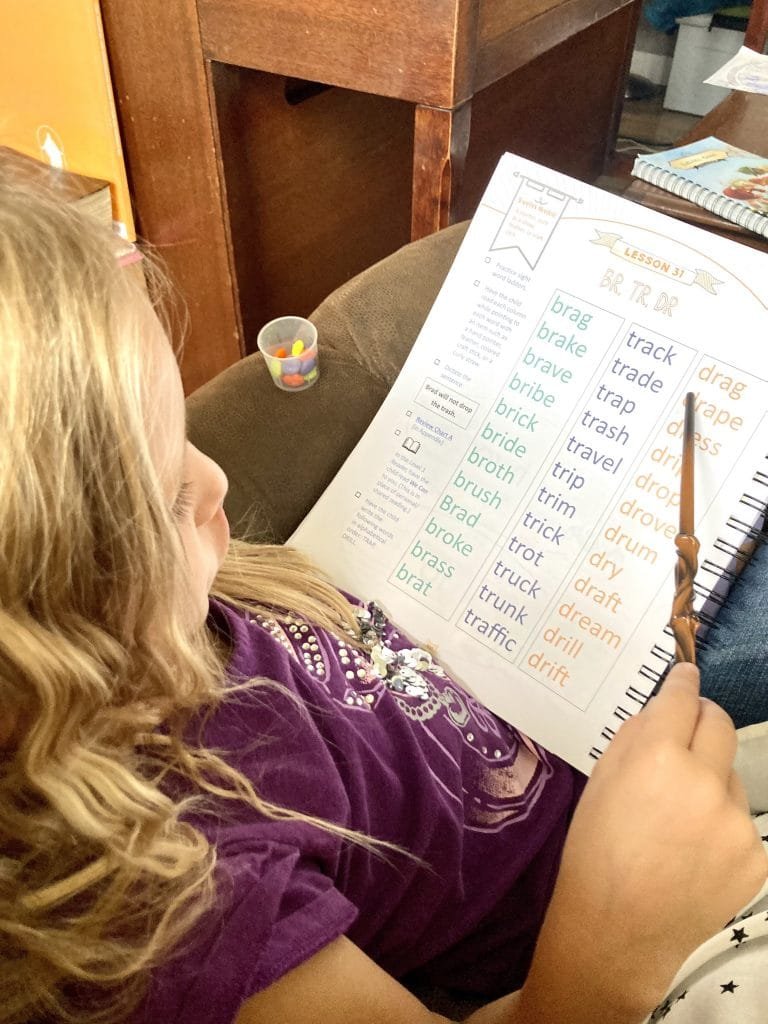 Beating out the rhythm of a song,
There are countless ways to incorporate wands to add a little spice to a school day!
3.) Butter Beer!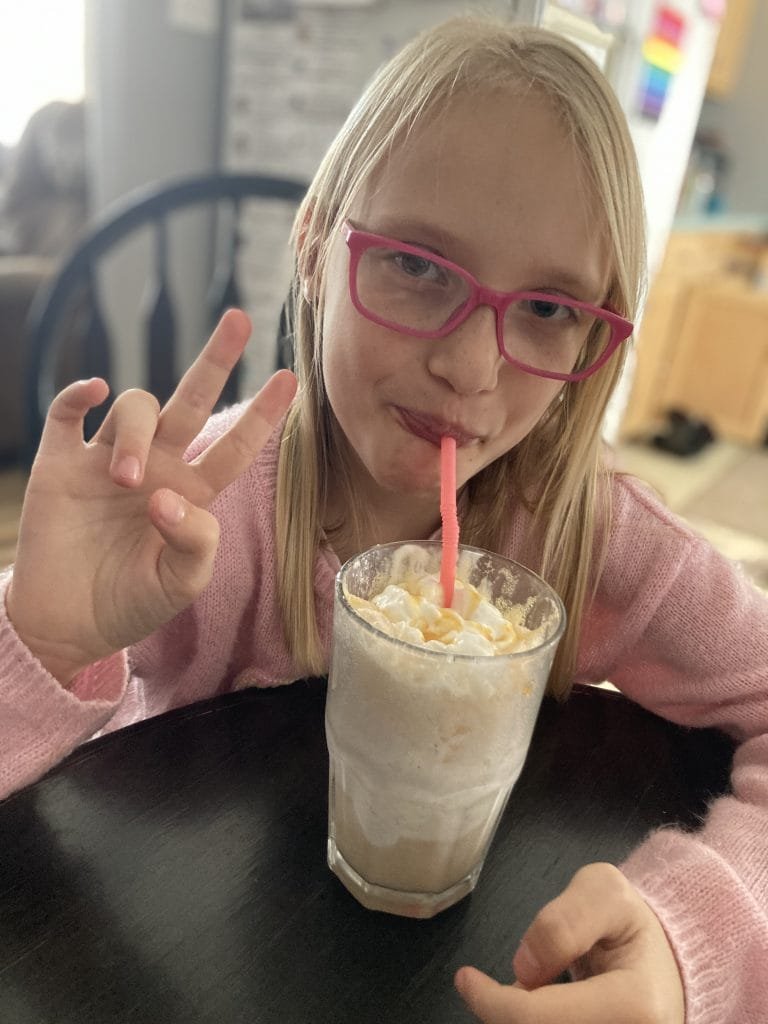 Butterbeer, is a special drink enjoyed throughout the Harry Potter books. We looked around online and came up with a fun version of butterbeer that works for us. We make this specialty drink when we begin reading a new Harry Potter book and on other special occasions.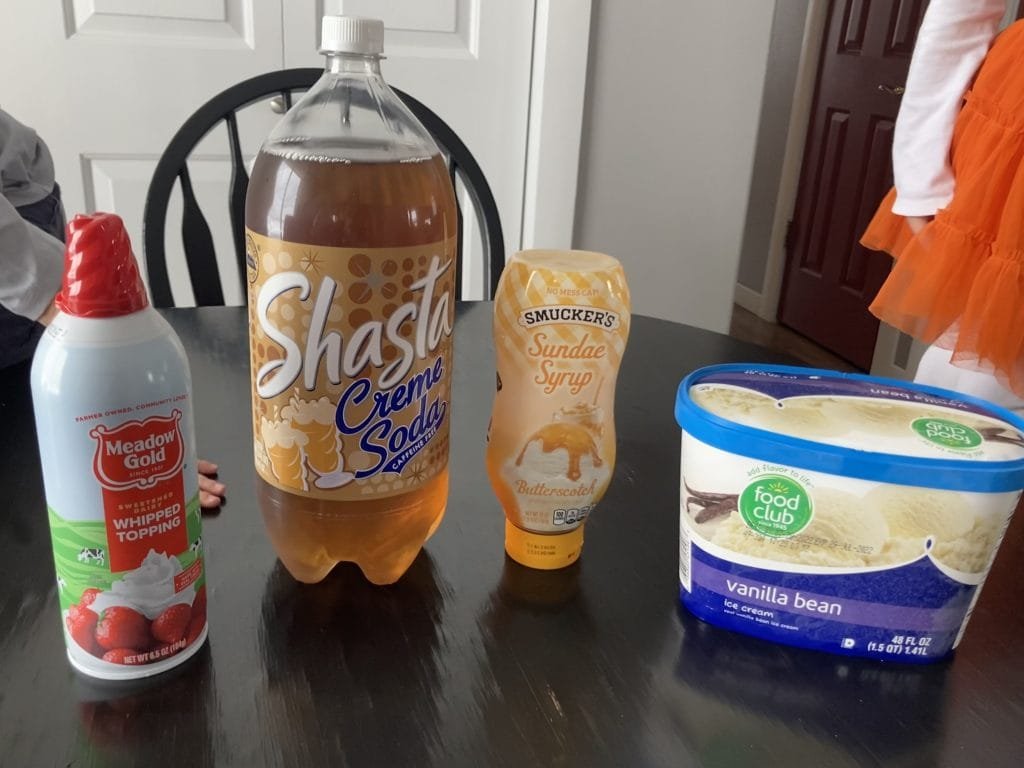 4.) Hogwarts Express – Home for the Holidays
True to Hogwarts School Schedule we travelled "home" on the Hogwarts Express for the Christmas holidays.
We attempted to make caramel and chocolate pretzel wands… Yep that was a Pinterest fail! I am open to suggestions on how to make beautifully dipped pretzel sticks. Comment below with any suggestions!
We made chocolate frogs again! This time we placed a mini marshmallow in the center of each frog. YUM!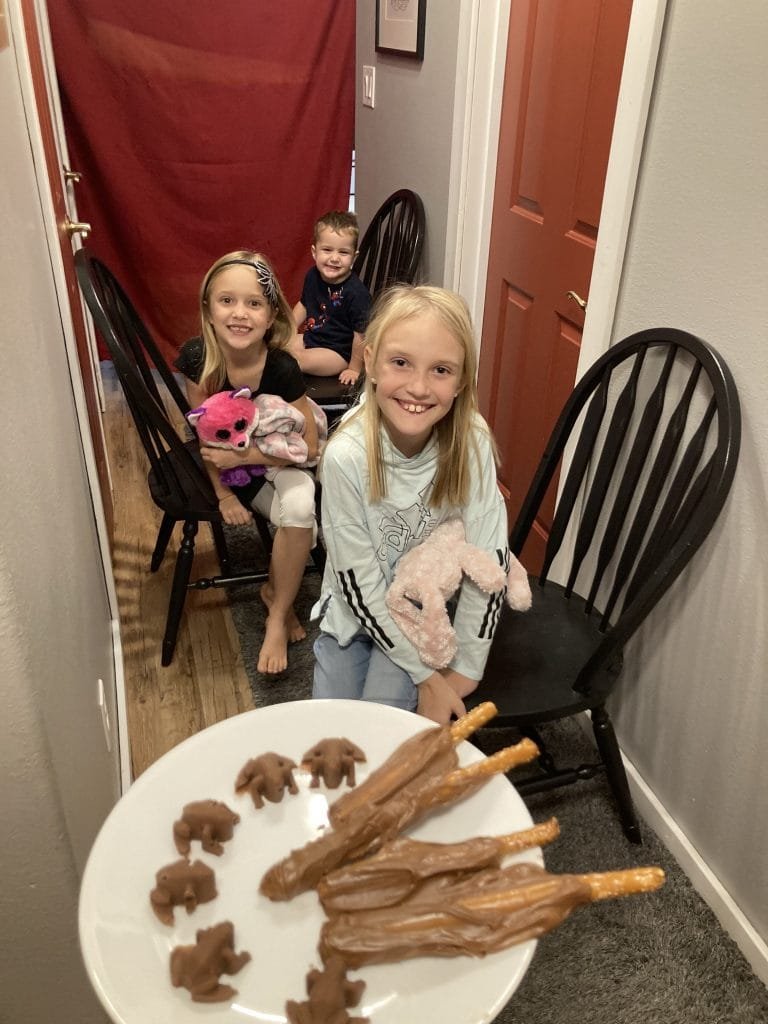 After the new year, the Hogwarts Express returned to school.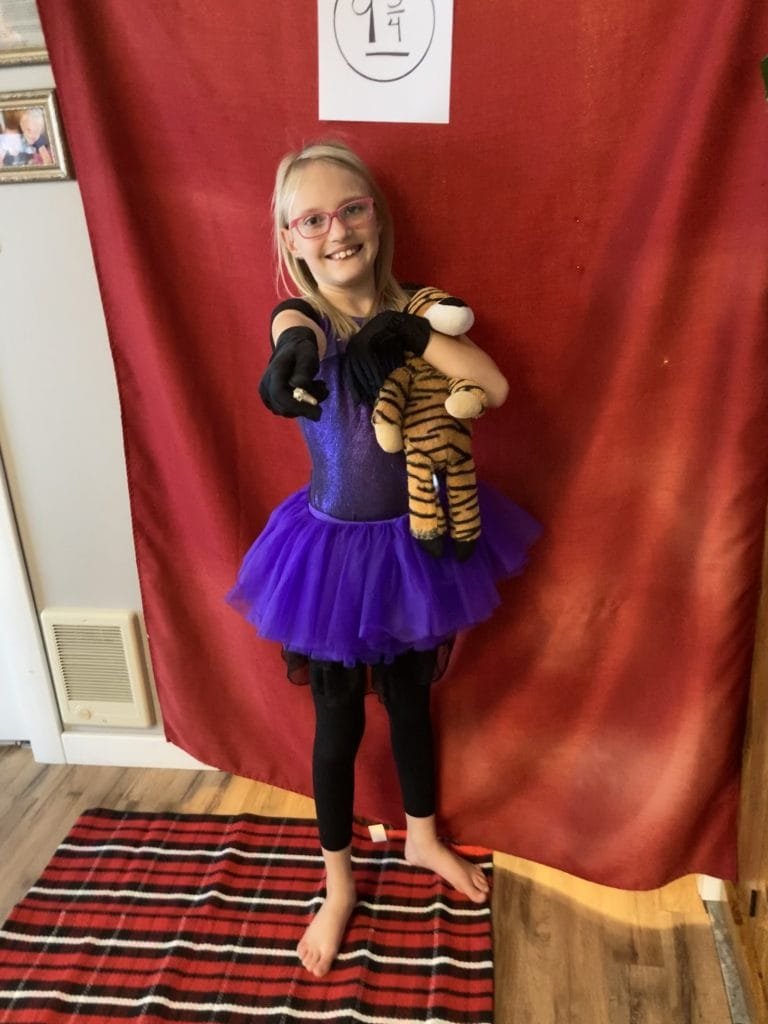 Bring on the 2nd Semester! Happy learning!
💕Terynn