"But courage, child: we are all between the paws of the true Aslan." – C.S. Lewis (The Last Battle)
This year we read the Chronicles of Narnia by C.S. Lewis. A favorite end of day activity is to read aloud to my children. We LOVED these books! The 7 books in this series include:
The Magician's Nephew.
The Lion, the Witch, and the Wardrobe.
The Horse and His Boy.
Prince Caspian.
The Voyage of the Dawn Treader.
The Silver Chair.
The Last Battle.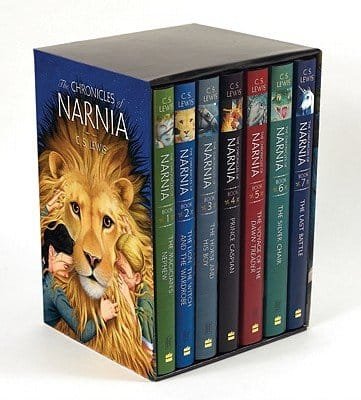 We were blown away by the beauty, symbolism, and life lessons found within the pages of these literary masterpieces. These books are worth reading and re-reading.
Disney produced 3 full length films that we enjoyed watching after their respective books. The second movie strays a little from the story, but I was pleasantly surprised that Disney stayed true to the book in the 3rd movie. Prior to watching the 1st Disney movie we watched the 1979 version of the Lion Witch and the Wardrobe. We all loved this! I highly recommend watching it first.
Some may wonder if these books are too complex for young minds to comprehend. The stories are beautiful and contain much depth. My daughters, at 7 & 9, easily followed the story line and understood some of the obvious symbolism. Children are capable of comprehending much more than we think. For example, in May, I took my girls to watch a Shakespeare play. They sat silently in their seats as they soaked in the story unfolding before their eyes. Perhaps they didn't understand every word but they fully understood the plot and story line.
I am an advocate of reading GREAT literature to my children. I want them to be exposed to the best stories, great writing, and excellent vocabulary. With that being said, we read a variety of books. Some are simple stories while others are more complex.
Read the best literature to your children. Read stories that will stretch their minds. Read stories that will teach them to be better people. Read things that will increase their faith in the Savior Jesus Christ. Read stories that will make them think a little deeper and ask questions. Read to your children every day!
💕 Terynn
"Since it is so likely that they will meet cruel enemies, let them at least have heard of brave knights and heroic courage. Otherwise, you are making their destiny not brighter but darker." -C.S. Lewis