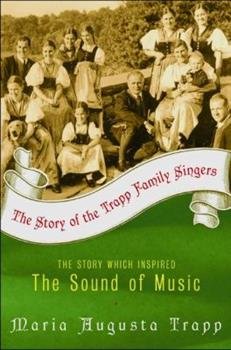 I read A LOT to and with my children, but I sometimes struggle to find the time to read books for myself.
This month I forced myself to slow down and read. I read "The Story of the Trapp Family Singers," by Maria Augusta Trapp. This is one of the best books I have ever read. The Sound of Music movie is a favorite, however it only scratches the surface of the Trapp Family's Story. The book is leagues above the movie!
This book is filled with faith promoting stories. Time and time again they step into the darkness not knowing beforehand how it will work out, where they will go, or how they will make money. Time and time again the Lord provides a way.
"It will be very interesting one day to follow the pattern of our life as it is spread out like a beautiful tapestry. As long as we live here we see only the reverse side of the weaving, and very often the pattern, with its threads running wildly, doesn't seem to make sense. Someday, however, we shall understand."

-Maria Augusta Trapp (pg 103)
As the story is laid out, we see the Lord using His willing servants to accomplish His work. The Trapp family lifted America during the dark days of WWII and through them He blessed a suffering Austria post WWII. My heart was enlarged to see the goodness of mankind through the eyes of Maria.
This book inspires me to put my trust more fully in the Lord while seeking more opportunities to lift and assist others around me.
If you want to laugh, be moved to tears, experience the power of music, and be inspired by the goodness that exists in the world take time to read this book.
💕Terynn