Our days are full of learning, work, and imaginative play. The Star Wars theme sprinkles itself into life which adds a little excitement and joy to our homeschool.
As a child, Tony collected a variety of Star Wars action figures. These totes have been collecting dust in our garage for a decade. This year we have found many uses for them.
Tony developed a plan to place action figures throughout the house at the beginning of each week. The kids enjoy discovering new action figures which have found their way out of the box. This adds excitement to Monday mornings.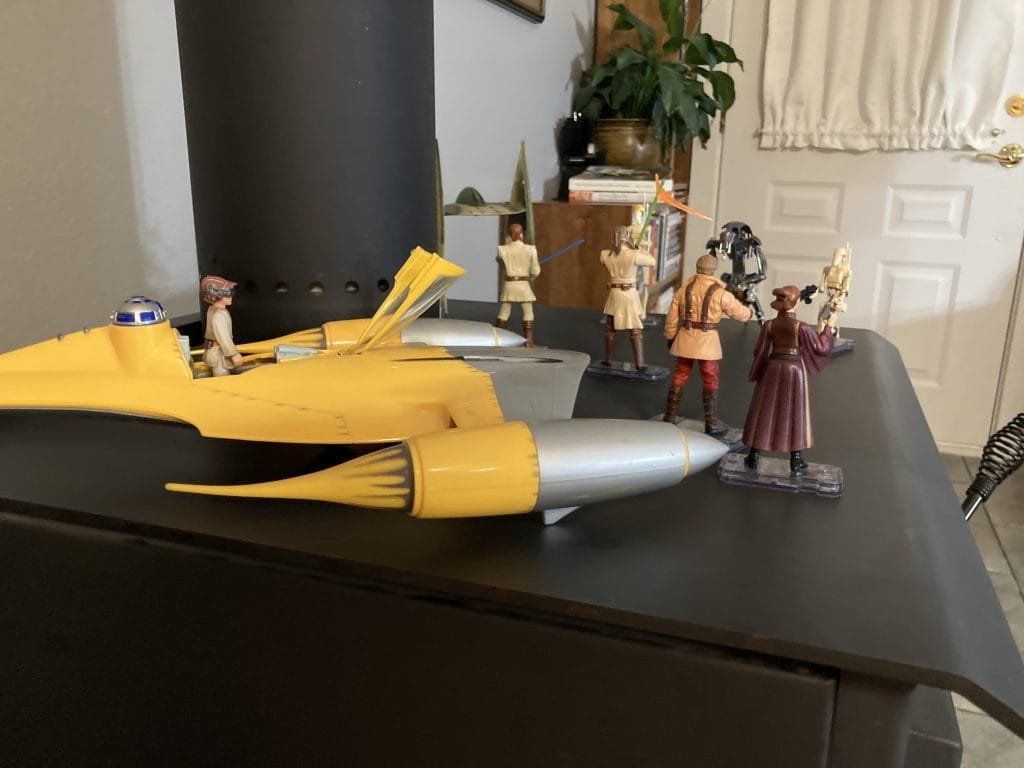 Then something happened… Zaylee lost a tooth.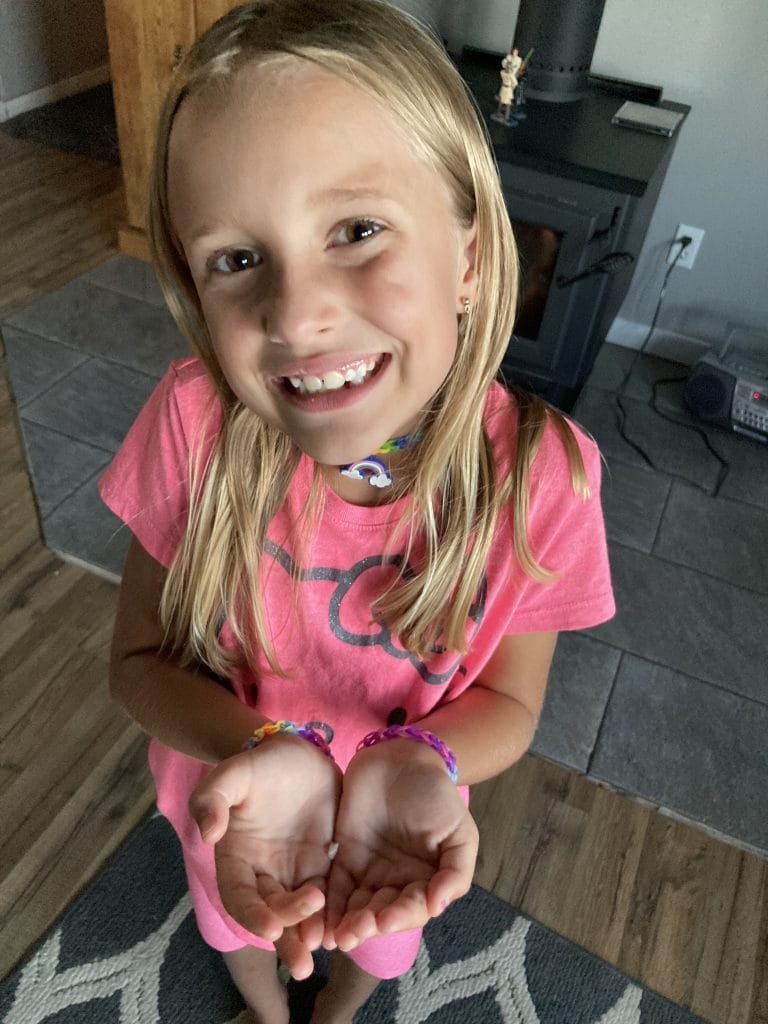 So naturally the Star Wars figures interrupted the Toothfairy's typical routine.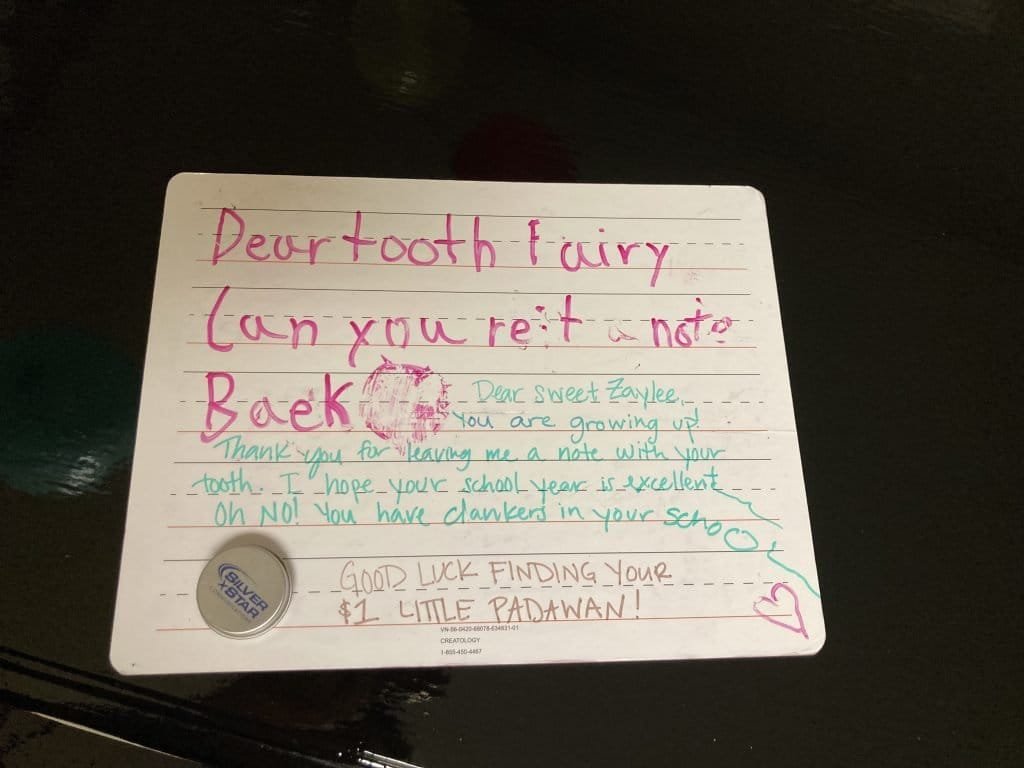 Zaylee was sent on a hunt for her dollar. She found it in the middle of a battle scene.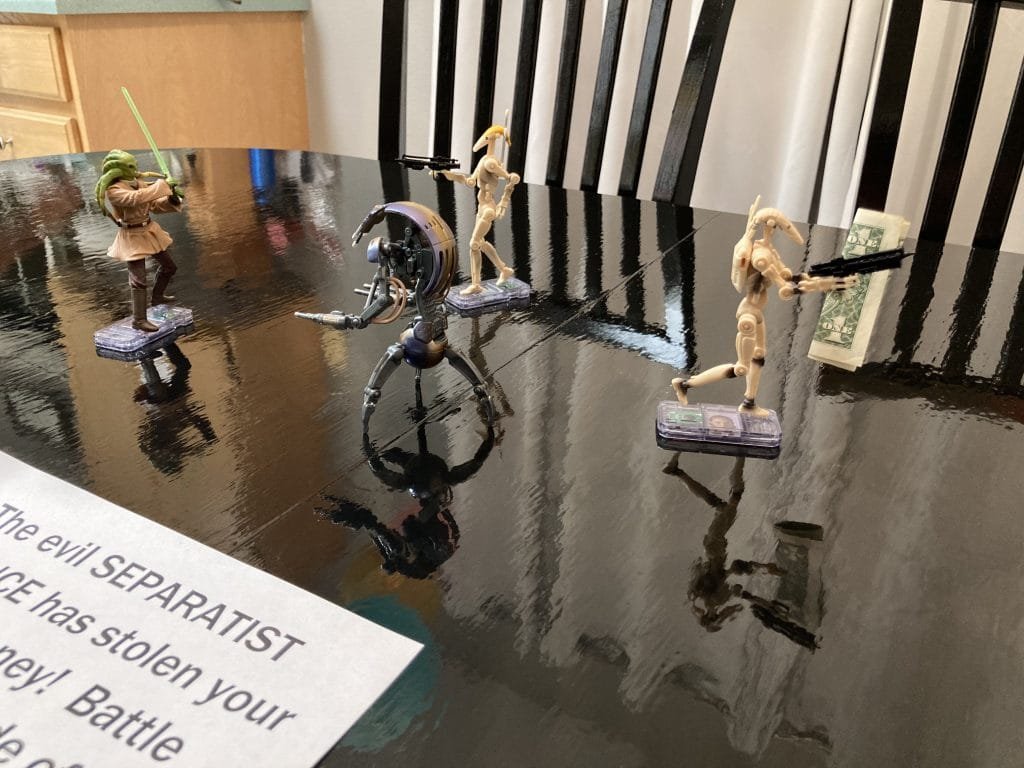 The placement of the $1 bill and the note is the best! I love how involved Tony has been in our homeschool. His creativity adds much depth to our experience.
Then Jozlin lost a tooth. This one was pulled by the dentist… just the same, the Toothfairy came!
Jozlin was trilled with the scene she found the following morning.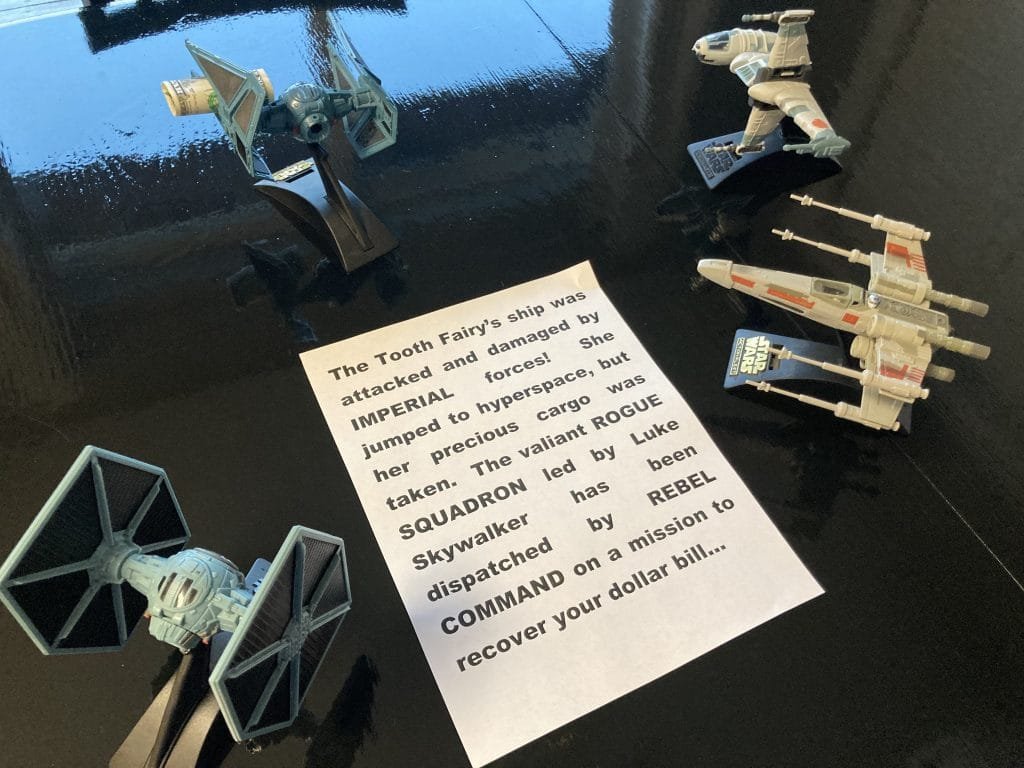 Later that week, she knocked out a loose tooth. The action figures did not disappoint.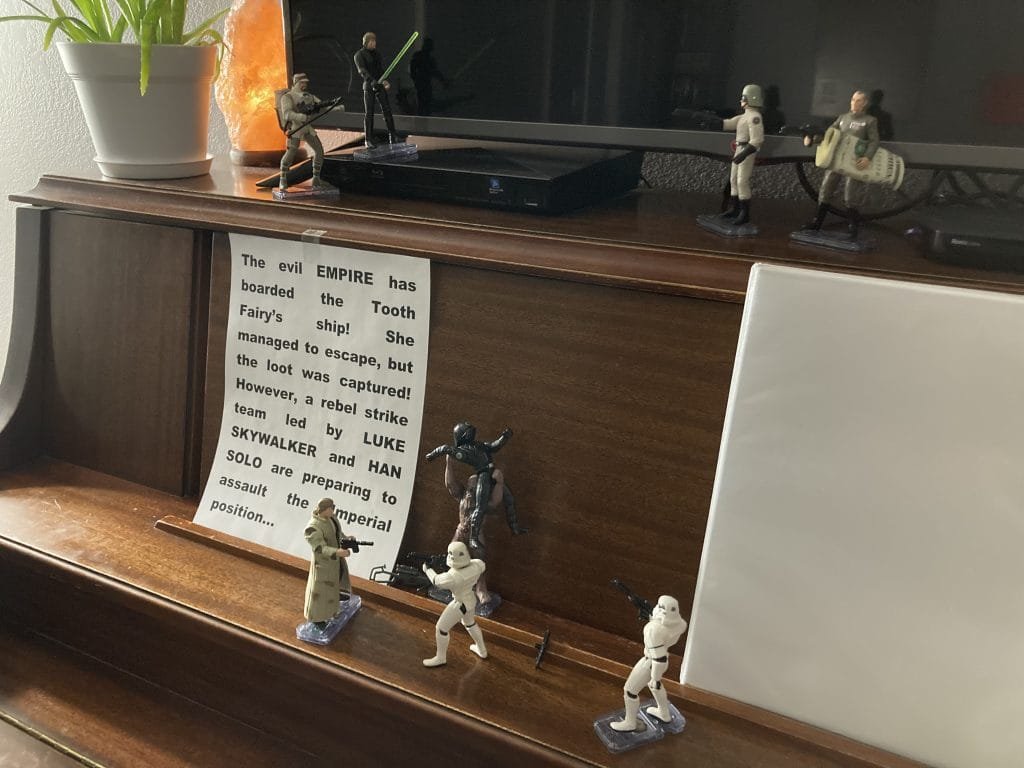 Thankfully Tony had a few months to regroup before Jozlin lost another tooth. This tooth dangled by a thread FOREVER! The dangle tooth added a realistic touch to her witch costume for Halloween.
Jozlin LOVED the gungan battle scene where her dollar was found!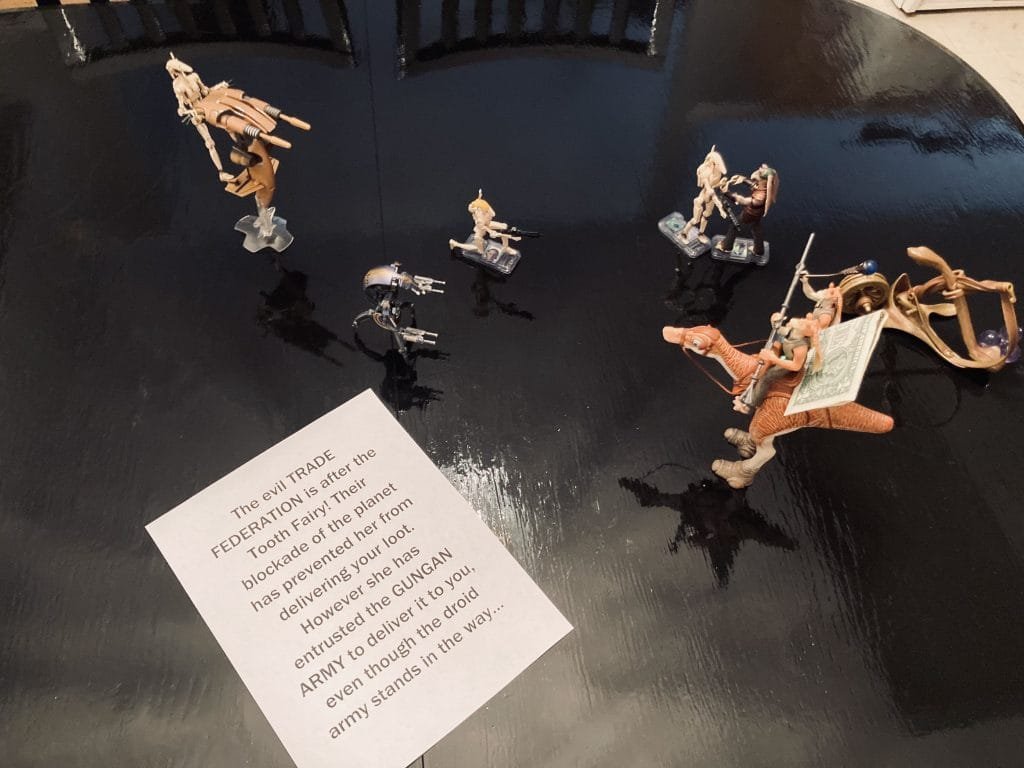 Only a few days later, while singing the intermediate hymn at Stake Conference, Zaylee turned to me with her tooth in her hand. Her tooth had popped out while we sang, "Families Can Be Together Forever." Seriously, I couldn't make this stuff up.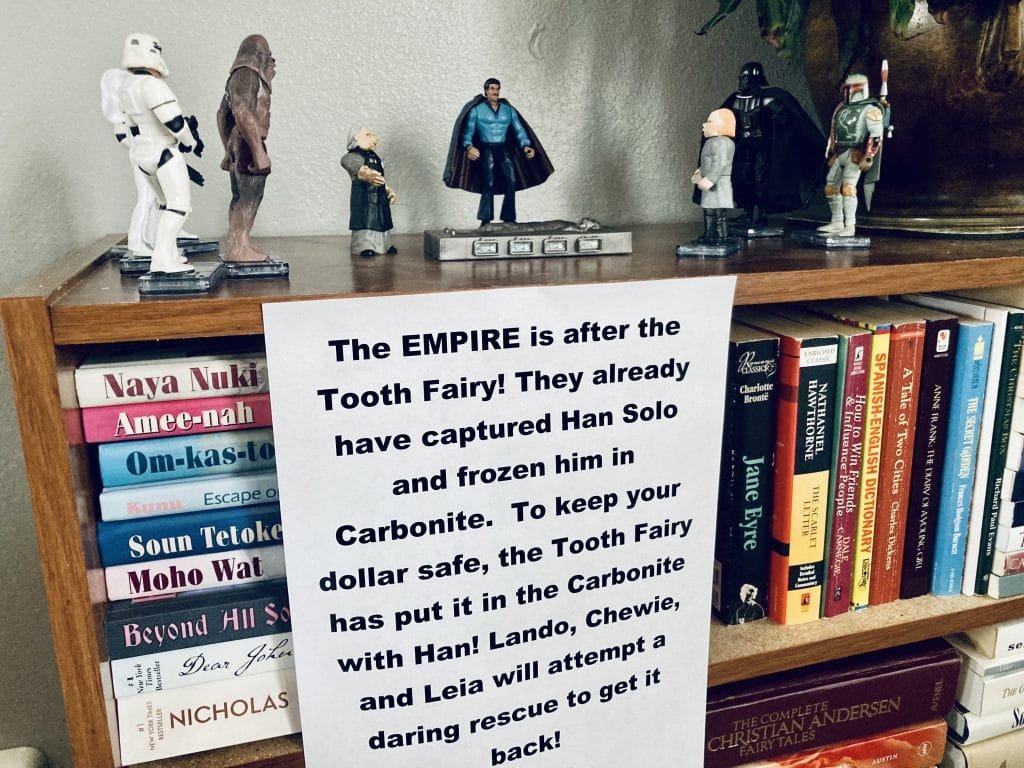 Soon it will be soup for every meal over here.
😂😂😂
Tony and I definitely laugh when developing and executing our crazy ideas. These kids eat it up! Their childhood is rich with joy, adventure, and learning. ❤️
"… men are that they might have joy." 2 Nephi 2:25.
Creating simple joyful experiences for my children is one of my top priorities. Seeing their excitement fills my heart with joy! At the end of this, I hope they look back on their childhood with fondness.
Find something to add a little excitement to your home. Adding joy to your family's life is always time well spent.
💕Terynn